With Bitcoin and cryptocurrencies in general gaining widespread attention as of late, it is no wonder that people are trying to obtain at least a fraction of a Bitcoin, half an Ether, or 1 full Link. With promises of price appreciation, financial freedom, and decoupling from financial institutions, cryptocurrencies are either an attractive store of value or a way to send or receive money in ways that are not possible before.
Thankfully, it's not 2015 anymore, and there are more methods of buying cryptocurrencies and keeping them safe and secure. The options to buy and sell crypto, as well as the ways to keep them, could vary depending on where you live.
Still there are wallets and exchanges that are available everywhere as long as you have a mobile phone. One of these wallets is Trust Wallet, an open source and free wallet for everyone to use.
This guide assumes you are a beginner in cryptocurrency and, therefore, going to purchase only a small amount initially. Once your cryptocurrency holdings grow, you should consider a more sophisticated approach with more advanced security measures such as hardware wallets that provide an additional layer of security.
Trust Wallet – A Cryptocurrency Storage Solution
Trust Wallet, Acquired by Binance in 2018, is a simple mobile wallet that allows you to keep your cryptocurrencies safe. Fully decentralised, the wallet lets you have full control of your private key (the key used to open and manage tokens inside a crypto wallet address) and can support a variety of tokens, including Bitcoin, Ether, and many other cryptocurrencies.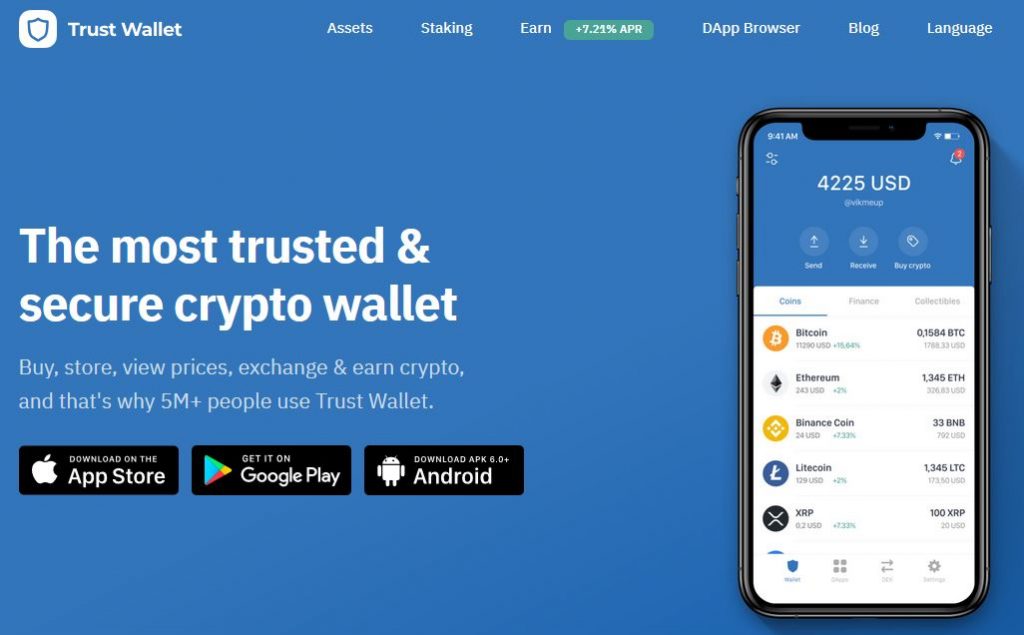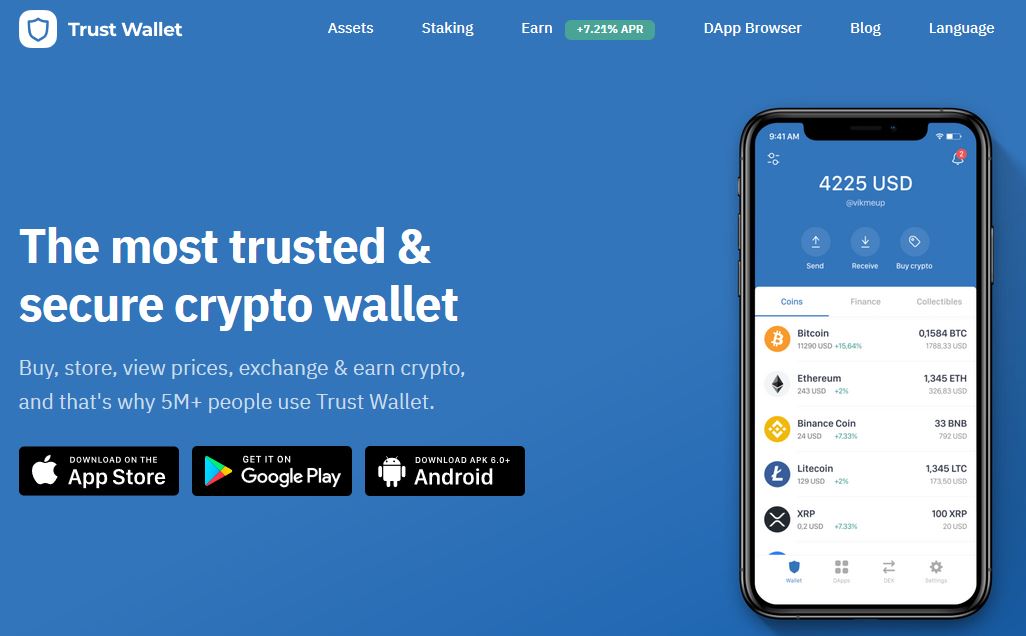 Trust Wallet Key Features:
It is safe. Trust Wallet would not ask for your personal information and only you have access to your private key.

Private keys are extremely important. It is effectively your password phrase that, if compromised, would give anyone in the world access to your money. As a decentralised app, Trust Wallet cannot reset this password for you. You should then be responsible for keeping your private keys as safe as you would keep cash.

It is user friendly. Because of key UI principles put in place, a user opening and using Trust Wallet for the first time would find familiar design elements as if you have opened and used it before.
It is free. The only fees collected are gas fees when doing transactions. That gas fee goes to the miners in the network and not to Trust Wallet.
It is open source. Anyone can check the code to audit, verify, as well as contribute to the wallet's technical improvement.
It supports different blockchains and different cryptocurrencies.
It supports direct buying of cryptocurrencies, where available, as well as cryptocurrency swapping, wherein you can exchange one token to another.
There are many things you can do with the Trust Wallet. For example, you can stake your tokens to earn interest. You can also play blockchain games through the Dapp browser and even receive collectibles. However, we can discuss those features in another article.
On the subject of buying cryptocurrencies, users can do that inside Trust Wallet but on this article, we will be using CEX.io, which should be available almost everywhere. For now, let's try to set up Trust Wallet first.
Steps to Install Trust Wallet
Download Trust Wallet here.
Install the app.
Click "Create New Wallet"
Read through the Privacy Policy and Terms of Service.

Tick the box that says you've read them.

Back up your wallet by clicking "Continue"
Write your 12 recovery phrases:

This serves as your private key. Never lose your copy and do not share it with everyone.
On iPhone, you will receive a notice that it is not safe to take a screenshot.
Click "Continue" afterwards.

On the next page, tap the words in the same order as they appear on the previous page.
Click "Continue"
Your wallet is successfully created!
At this point, feel free to check out Trust Wallet and be familiar with its features. Try to take note of where the addresses of different tokens reside as well as the available options if you like to buy cryptocurrency within the app.
Cex.io – A Cryptocurrency Exchange
One of the most seamless ways to buy cryptocurrency is through Cex.io, a secure and regulated crypto exchange. Different exchanges will offer different purchase prices so please be sure to do your own research.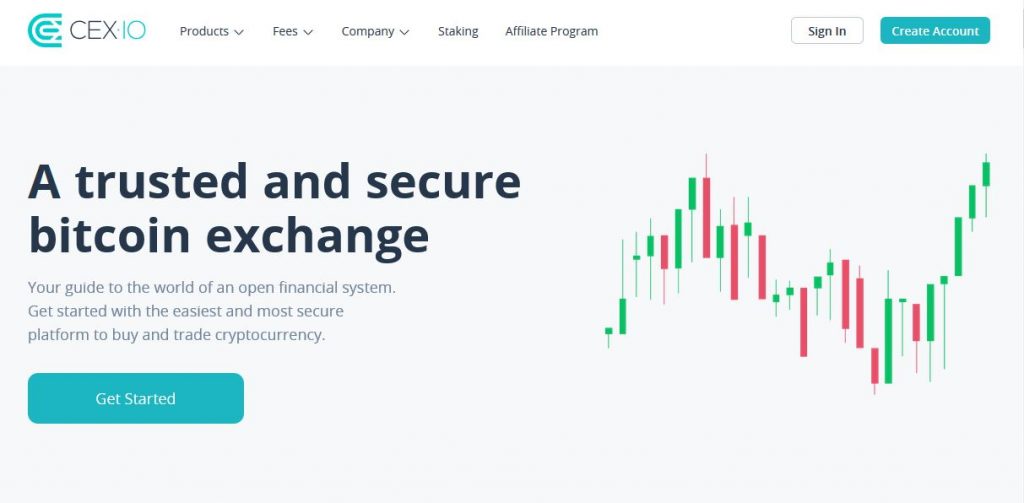 Cex.io has a lot of products, including spot and margin trading platforms. However, its first product — the one that we will use — is its instant buy/sell service where you can buy Bitcoin or other cryptocurrencies using Visa or MasterCard in USD. This is particularly useful for beginners because spot exchanges are often complicated and not intuitive to the average person. Once a person is comfortable in buying through instant buy and sell sites like Cex.io, they can move on to buying on exchanges.
Also, because of Visa or MasterCard, anyone with a bank account can technically buy cryptocurrency through Cex.io.
Steps in Creating a Cex.io Account
Register for a Cex.io account here.
Fill in the necessary details such as your name and location.
Download the Cex.io app.
How to Buy Bitcoin on Cex.io
On the website or app, click "Buy/Sell" at the top of the page.
On the next page, you can click the ready-made options such as buy Bitcoin worth $200, $500, or $1000.

You can also specify the amount you require. At this point you could also select a different cryptocurrency from the dropdown menu.

Next, input your card details, and then click proceed.

Note that this only appears the first time you will link your card to Cex.io.
I used a debit card for this example.
Click "Next".
On the next page, review your transaction, enter your card security number, and then click "Buy Now".
You bought your first Bitcoins!
The same process could be done in buying other cryptocurrencies on Cex.io and many other exchanges offer a very similar process. Many cryptocurrency exchanges require bank deposits for larger sums. 
Important Note: Know Your Customer (KYC)
Cex.io has a robust anti-money laundering (AML) and know your customer (KYC) policies that kicks off the moment you register on the website. All regulated exchanges are required to have these policies to ensure their platforms are not used by criminals as a means to launder illicit funds into the financial ecosystem.
Emfarsis recommends always using regulated exchanges that take financial crime prevention seriously.
Transferring Bitcoin to Trust Wallet
Cex.io has a built-in crypto wallet and yes, you can leave your Bitcoins there. Still, it is better that you keep your Bitcoins in an app where you have control of your private keys vs. keeping it in a centralised exchange. If you have control of your private keys, only you yourself can access whatever is inside your cryptocurrency wallet.
Important note on transaction fees: The Bitcoin and Ethereum network have been notorious for their high transaction fees at various times especially when many people want to to have their transactions confirmed at the same time. It is important to always check the transaction fee when transferring small amounts from one wallet to another because the fee might not justify the value of the cryptocurrency being transferred. This is especially true for some cryptocurrencies like Bitcoin and Ethereum, though there are other cryptocurrencies specifically designed to have very minimal fees like Ripple (XRP).

How to Transfer Bitcoin from Cex.io to Trust Wallet
Open Trust Wallet App
Click Bitcoin
"Copy" your Bitcoin wallet address
Go to Cex.io App
Select "Wallet"
Select "Bitcoin"
Select "Withdrawal"
Select "Add New Address"
Input a "Name" (up to you) and then paste the Bitcoin wallet address from Trust Wallet
Accept the Terms of Use, Refund Policy, and Payment Conditions
Click "Withdraw"
Confirm the operation with your Withdrawal Pin Code that will first appear the first time you went to the app's withdrawal page
The transaction could be slow depending on the Bitcoin network, but at some point, you should have received your Bitcoins within minutes.
Conclusion
There are many ways to purchase and keep cryptocurrency today. For beginners, it is always recommended to go with the instant route first before trying spot exchanges like Binance. Other options could be available as well depending on where you live.
When you finally buy your first Bitcoins and store them on Trust Wallet for the first time, make sure to take the necessary measures to keep your accounts safe. Safekeeping your private keys are one. The other is to make sure your phone is free from any viruses by not downloading and using any malicious apps.